Courage and sacrifice: 6 activists behind LGBTQ progress
June 29, 2019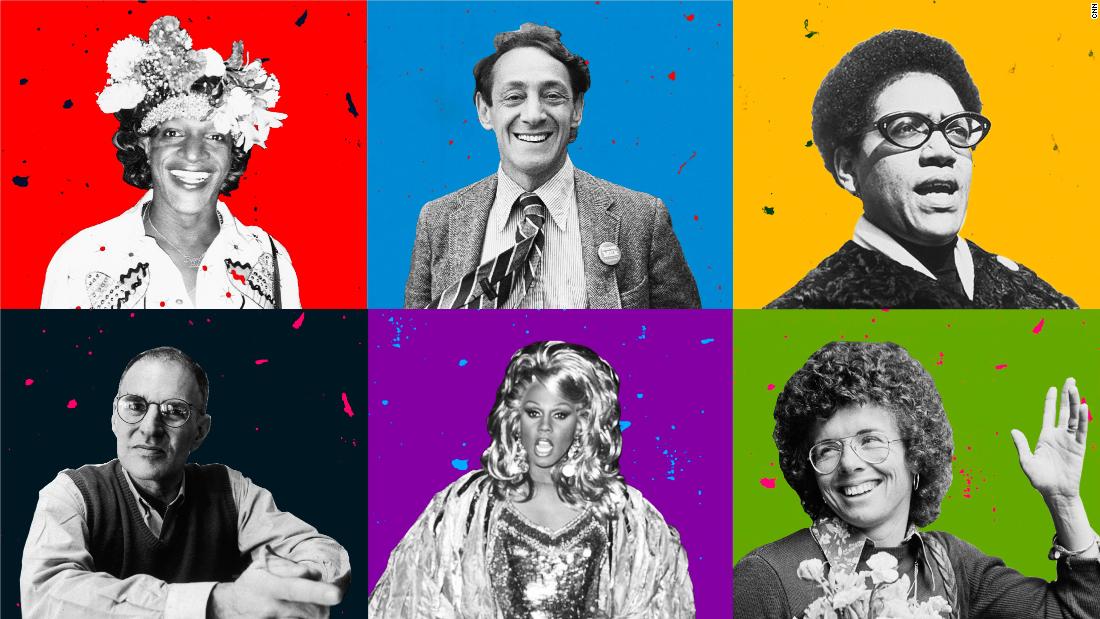 (CNN)Activism takes different forms, whether it's marching in the streets, speaking on behalf of marginalized people or influencing pop culture to embrace people from society's fringes.
Here are a few prominent figures who changed the course of LGBTQ history.
Harvey Milk was one of the first openly gay politicians elected to office in the United States, and the first openly gay official elected in California.
"We want gays to represent gays," Milk told the San Francisco Examiner in 1977, and his position as an LGBTQ public official helped bring the community's issues to prominence.
After moving from New York to California, Milk helped start one of the first predominantly LGBTQ-owned business groups in the country, the Castro Village Association, and he was elected to San Francisco's Board of Supervisors in 1977.
While Milk led pride marches and was widely known as a fighter for LGBTQ rights, he also fought for issues affecting the entire San Francisco population, including access for affordable housing and daycare for working mothers.
Milk was no stranger to death threats and acknowledged there was a possibility he would be assassinated. Less than a year after Milk's inauguration as city supervisor, he and Mayor George Moscone were shot to death in the San Francisco city hall by a former fellow city supervisor over a job dispute.
When his killer was sentenced to seven years, riots broke out over what many perceived to be a lenient sentence.
Lorde described herself as a "black lesbian feminist mother warrior poet."
She was proud of every layer of her identity and used her own experiences to discuss the overlap between these communities.
Audre Lorde's words carry on her legacy and can be seen on signs during civil rights marches around the world. Her art changed the way many see feminism and emboldened women from all backgrounds.
Larry Kramer turned his anger and grief into action.
He was in the proverbial trenches fighting for LGBTQ rights and organized AIDS activists even before he was diagnosed as HIV positive.
Kramer rose to prominence battling what he cited as negligence from the FDA and the US government. Kramer and the activists he demonstrated with were fueled by rage. They led demonstrations, blocked roads during rush hour and staged "die-ins" that grabbed media attention, eventually forcing the government to address the AIDS crisis and provide access to new treatment methods.
Kramer's controversial calls on activists to take the AIDS crisis into their own hands helped push the FDA to eventually approve the use and distribution of experimental drugs that helped save the lives of AIDS patients. Arguably, Kramer and ACT UP are the reason countless people are alive today, because without his relentless, merciless activism, AIDS would've continued to take the lives of many more than it does today.
RuPaul Charles was a key figure who brought drag out of the closet and into the mainstream.
Before RuPaul, drag was viewed as an obscure subculture. The art is now appreciated by the masses as a centerpiece for entertainment.
RuPaul's career and "Drag Race" acted as a springboard for other drag queens to make a living through performances and corporate sponsorships. His contributions to the LGBTQ community boil down to the impact he made as a pioneer in drag, and how "Drag Race" drastically changed the way millions of Americans view — and appreciate — a key facet of gay culture.
Read more: http://edition.cnn.com/