What happens now for clients of attorneys Michael Avenatti and Mark Geragos
March 28, 2019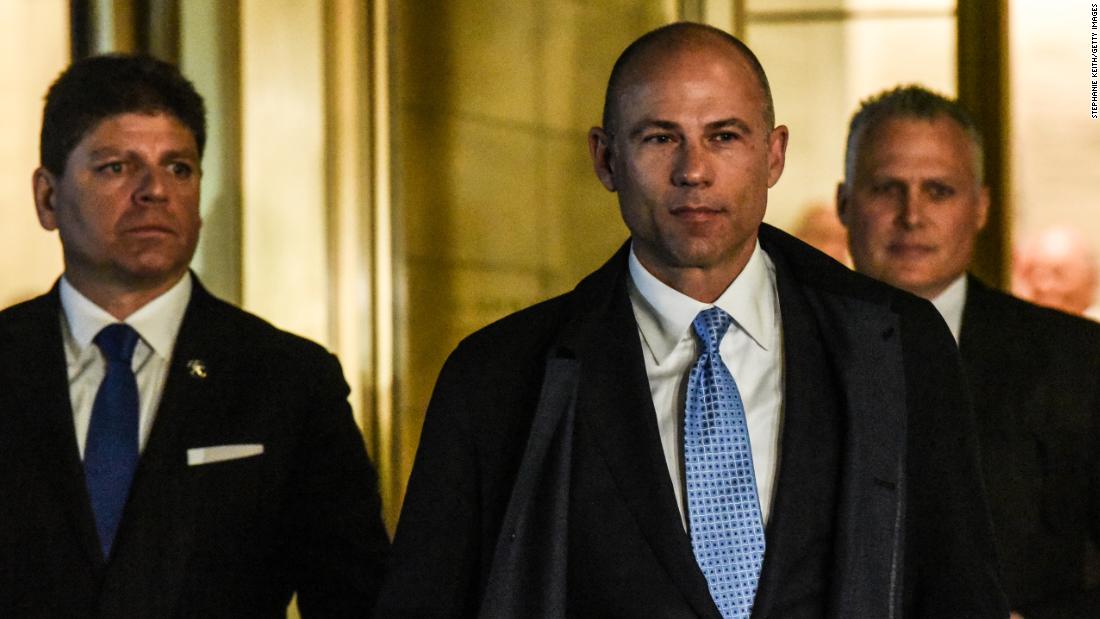 (CNN)The indictments against Michael Avenatti accusing him of extortion, bank fraud and wire fraud are likely to severely limit his ability to represent his clients, legal experts said.
Indeed, the
charges out of Los Angeles
accuse Avenatti of just that. Nick Hanna, the US attorney for the Central District of California, said Avenatti used money due to his client to pay his own expenses. Hanna also accused Avenatti of defrauding a Mississippi bank by submitting fake income tax returns.
The charges "paint an ugly picture of lawless conduct and greed," Hanna said, calling Avenatti a "corrupt lawyer who fights for his own selfish interests."
Avenatti also is charged in a separate New York City criminal complaint alleging he attempted to extort more than $20 million from Nike.
However, the indictments will likely cause fewer problems for clients of Mark Geragos, the longtime celebrity attorney who is the unnamed co-conspirator mentioned in the New York complaint, a source familiar with the case confirmed to CNN.
Here's a look at how these cases could impact the two attorneys' active — and high-profile — clients.
Geragos' clients
Most importantly, Geragos has not been charged with a crime. He is no longer a CNN contributor as of Monday.
Though he is not named in the extortion case, his role in it creates a "specter" over him that would make him polarizing, former prosecutor Jill Stanley said.
Geragos has most recently been involved in two highly visible cases, but both appear to be largely complete.
He represented Colin Kaepernick, the former NFL quarterback who famously knelt during the national anthem before 49ers games as a form of protest, in the player's lawsuit accusing the NFL of collusion. Kaepernick is still without a team, but he settled the collusion grievance case in February for an undisclosed sum.
Geragos also represents actor
Jussie Smollett
, who had been accused of staging a hate crime and filing a false police report. Earlier this month, he appeared on CNN and said the charges against
Smollett were an outrage
.
But in a surprise twist on Tuesday, prosecutors dropped all charges against the actor.
Geragos was not in court Tuesday but released a statement saying that Smollett was hurt by these "unfair and unwarranted actions."
"This entire situation is a reminder that there should never be an attempt to prove a case in the court of public opinion. That is wrong. It is a reminder that a victim, in this case Jussie, deserves dignity and respect. Dismissal of charges against the victim in this case was the only just result," Geragos said.
Avenatti's clients
For Avenatti, the issues are more significant.
The outspoken attorney was arrested Monday and released that night on a $300,000 bond. Outside federal court, he said he is "highly confident" he will be fully exonerated.
Though he rose to national attention representing
Stormy Daniels
in her lawsuit against President Trump, Avenatti no longer represents the adult film star. The duo ended their professional arrangement on March 12, according to separate
Twitter
statements
from each.
It's not clear exactly what led to their falling out, but Daniels said in a statement after his arrest that Avenatti had dealt with her "extremely dishonestly" as her attorney.
"Knowing what I know now about Michael Avenatti, I am saddened but not shocked by news reports that he has been criminally charged today,"
she said in a statement
. "I made the decision more than a month ago to terminate Michael's services after discovering that he had dealt with me extremely dishonestly and there will be more announcements to come."
Avenatti also represents accusers against R. Kelly, the singer who was indicted in late February on 10 counts of aggravated sexual abuse of four victims, prosecutors said. Kelly's attorney, Steve Greenberg, has pleaded not guilty on his behalf.
Attorney Gerald A. Griggs, who represents the family of Jocelyn Savage, one of the women featured in the documentary "Surviving R. Kelly," said Avenatti's legal problems will not impact the case against Kelly.
"The effect of the arrest of Michael Avenatti for unrelated allegations by the Justice Department is problematic for Mr. Avenatti,"
Griggs
said
on Twitter. "However, the effect against the #RKelly case will be minimal as the ten charges are based on four independent accusers and other information independent of Mr. Avenatti.
"The Savage family continues to seek reunification with their daughter and that process of justice continues on course for all the alleged victims of Robert Sylvester Kelly."
The Nike extortion case
Finally, Avenatti represents an unnamed men's basketball coach who claimed to have evidence that Nike had authorized or paid the families of top high school players, according to a criminal complaint in the Southern District of New York.
According to the complaint, Avenatti told attorneys for Nike he would disclose the allegations at a press conference unless Nike made millions in payments to him and an unnamed co-conspirator by hiring them to conduct an "internal investigation," for which he later requested between $15 million and $20 million. Avenatti also allegedly demanded that Nike pay $1.5 million to the client he claimed to represent.
Geoffrey Berman, the US attorney for the Southern District of New York, told reporters Avenatti's actions amounted to a "shakedown."
"By engaging in the conduct alleged in the complaint, Avenatti was not acting as an attorney," Berman said. "A suit and tie doesn't mask the fact that at its core, this was an old-fashioned shakedown."
Despite the charges, Avenatti
still tweeted
about the allegations.
"I am anxious for people to see what really happened. We never attempted to extort Nike & when the evidence is disclosed, the public will learn the truth about Nike's crime & coverup," he said.
Read more: http://edition.cnn.com/